Many people use sport as a balance to their stressful job. For others, sport is simply the expression of their irrepressible urge to move. According to a survey from 2019, around 28.6 million adults in the UK engaged in sport for over 150 minutes a week. The popular sports of swimming, jogging and cycling are particularly popular.
In order to achieve the training goal or to alleviate complaints during sport, many athletes resort to different strategies. Physiotherapy, relaxation exercises or nutritional supplements can be helpful.
CBD is increasingly becoming the focus of interest for many athletes.
CBD Sport – Is CBD oil considered doping?
Cannabidiol is a cannabis product. Hemp contains over 100 different ingredients, of which CBD and THC are the best known.
In contrast to THC, CBD has no psychoactive effect, does not cause intoxication and is not addictive. Today, numerous researchers assume that CBD acts as an
anti-inflammatory and
painkilling substance
… and is also becoming increasingly interesting for athletes.
One thing should be fundamentally stated at this point – CBD is not considered doping. WADA, the World Anti-Doping Agency, has officially removed CBD from the list of banned substances. However, care still needs to be taken.
THC is a doping substance
THC is and remains on the list.
That is why competitive athletes who are controlled by WADA should pay attention to the amount of THC in their CBD products. In the European Union and UK, CBD products with a THC content of 0.2% or less can be legally sold.
Athletes who want to be on the safe side should buy CBD products with a declared THC content of 0.0%.
Which products are available? Experiences and reviews?
Use our review portal to find these reports. Use the "Products" tab to find over 60 different manufacturers and countless products. Use the Filter function to look for suitable CBD sport products, which would be:
CBD oil 5%, 10%, 15%, 20%, 25%, 30%.
CBD cosmetics: ointment, cream, gel
CBD spray
Always pay attention to: Only products without THC, no full spectrum!
You can use the search function to enter the keyword "sport", for example. This way you will be able find CBD sport experiences and reports from reviewers. Here is a selection of random products that are rated here:
[cip]
The effect of CBD on athletes
The higher the training workload, the higher the risk for athletes to have to struggle with injuries. Minor injuries can then be compounded by problems with aching muscles or joint inflammation. Sports injuries are usually combined with a lengthy healing process.
In many cases, classic therapies such as physiotherapy, cooling or compression are used. These remedies should help to reduce pain on the one hand and inflammation on the other.
The human body also produces cannabinoids. Within the endocannabinoid system, these serve to influence the body's perception of pain, for example.
CBD docks onto the ECS via the CB1 and CB2 receptors. Fighting inflammation is also regulated via the ECS. This is how CBD works in sports! It docks, it takes effect, it renews and it inhibits.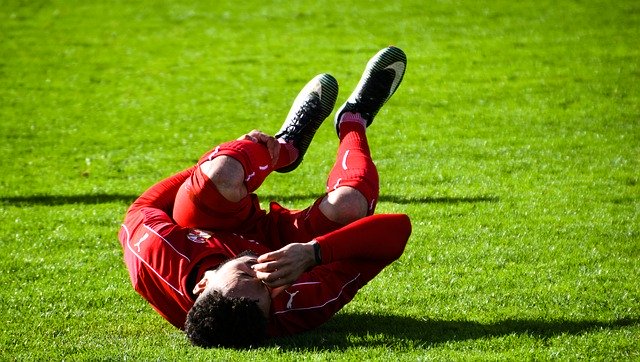 CBD against inflammation in sport
CBD is an effective way to fight inflammation, according to a study. At the world-famous Imperial College London, another study showed that CBD was able to reduce the infections of test persons by up to 50 %.
Researchers documented in a report in the Journal of Experimental Medicine that CBD is effective against both inflammation and pain. They reported that CBD was able to suppress the symptoms of both conditions. CBD seems to have an effect on the glycine receptors. These are responsible for telling the brain that the body is suffering from pain.
In summary, the researchers wrote that CBD intake helps with chronic inflammation and neuropathic pain.
CBD can have a positive effect on athletes who suffer from inflammation when combined with adenosine. Adenosine is responsible in the body for the release of the neurotransmitters noradrenaline and dopamine. Both have an anti-inflammatory effect. CBD can increase the effect of adenosine and thus also the effects of dopamine and noradrenaline. A study from 2015 proves this connection.
For amateur athletes who have reached a certain age, CBD can help against the preliminary stages of arthritis. Although the cannabidiol cannot do anything against the onset of cartilage atrophy, it can be very helpful against the pain and any inflammation. (Read more: CBD for arthritis)
Oral ingestion is not the only proven remedy. CBD oil rubbed directly onto the affected area as a massage oil, in combination with the frictional heat, can help against joint inflammation. CBD ointments or CBD creams are particularly helpful for the superficial treatment of inflammation.
CBD can therefore "revive tired bones", as they say. It helps older athletes to continue to play their sport of choice to a certain extent, despite the unpleasant signs of ageing described above.
CBD for pain after sport
Sports injuries can be treacherous. Not only can they cause acute pain, should they not be allowed to heal properly, they can lead to chronic pain.
Whether you've twisted your ankle playing tennis, bruised your arm skiing, or pulled a muscle while arm wrestling, if you don't treat these injuries properly, the resulting pain can last for a long time. Handicapped in this way, not only sport but also everyday life becomes difficult.
The CBD effect on pain relief has been documented many times. A crossover study with 34 participants, all of whom suffered from chronic pain, showed that the quality of their sleep improved due to the reduced pain level.
CBD for sore muscles?
One of the more harmless types of inflammation is probably well known to every athlete – muscle soreness. It becomes painful when the smallest muscle fibre injuries become inflamed. The cause of this is that athletes put too much strain on their muscle fibres either during the most intensive training sessions or during competitive sports.
These small injuries can affect the athlete within a few hours or even a few days. On average, this pain lasts up to 7 days. Cannabidiol can alleviate the negative effects of muscle soreness due to its anti-inflammatory and analgesic properties.
CBD for regeneration after sport
Training breaks are important for athletes. Only in this way can the body recover sufficiently from the stresses and strains of physical activity. There are always sports enthusiasts who, full of impatience and the urge to exercise, plan far too short a break between units.
CBD can support the regeneration of athletes. The recovery of the body can be made more difficult as a result of pain. Taking CBD between competitions and after training sessions can reduce this pain and thus enable the body's relaxing regeneration.
It is however not only the physis that plays an important role in regeneration. As many athletes know, it is often the mind that determines victory or defeat. A rested, regenerated mind can therefore be decisive for success. Athletes are always under immense pressure. This can be the result of external influences or come from within. Positive stress can provide ideal preparation for a competitor, but negative stress can lead to a cramped action.
In all three cases, CBD can have a regenerative and relaxing effect.
Athletes who are still fully adrenalised after a competition or training session are often not able to fall asleep very well. Restful sleep is very important during a tournament lasting several days, for example. CBD can help people who have trouble falling asleep to overcome this.
CBD for bodybuilders
As stated, athletes usually use CBD after exercise. This could also be the origin of a very specific myth. According to this myth, CBD can actively help build muscle. To be clear, this is false. However, CBD can indirectly support bodybuilders in reaching their own training goal.
CBD can also simplify the regeneration phase in this competitive sport.
Muscles can only grow after an intensive programme in the gym if you give them enough time to recover. Heavy, possibly exaggerated bodybuilding can lead to microscopic muscle injuries. Inflammations are also the result.
Bodybuilders repeatedly report taking CBD for this type of sports injury.
How athletes use CBD
The best-known CBD product is CBD oil. However, there are many others that athletes can use. Among them are …
CBD massage oil
CBD booster
Some CBD products are increasingly used in the preparation for and regeneration after a training session. This includes, for example, the CBD oil mentioned above. Applications such as CBD creams, CBD gels or CBD ointments are also used for the treatment of sports injuries.
Since CBD can certainly help with sleep disorders, i.e. taking it could lead to symptoms of fatigue, it is not recommended to take it directly before a training session or a competition.
Dosage for athletes
There is no general dosage recommendation for athletes, as most people have to find the ideal dose for themselves and for the desired effect. Gradually increasing the dosage to achieve this is recommended.
Read our CBD dosage guide, with calculators and tables.
Conclusion
CBD can help and support athletes in numerous instances. According to WADA, CBD is not considered a doping agent, but athletes should make sure to buy CBD products with a THC content of 0.0%. Studies show that CBD can relieve both pain and inflammation, two of the worst scourges of an athlete. This includes the infamous muscle soreness. CBD is used in regeneration after athletic exertion. It enables relaxing rest phases in which the body as well as the mind can recover. It is generally recommended to use CBD after sports.
FAQs from athletes
Does CBD help during sports?

CBD has an anti-inflammatory and regenerative effect. This will mainly help with sports injuries, muscle soreness and inflammation, but will not improve performance. That is why it is not a doping agent, unlike THC. It helps in sports, but rather in a supportive way. Read more here.

Where can I buy CBD oil for sport?

As a rule, you can buy any CBD oil that is not full spectrum and therefore does not contain THC. Look in the chemist's, drugstore, retail shop, online shop, natural health food or organic product shop. CBD can now be bought everywhere.

Does CBD have a regenerative effect?

Yes, studies have shown that CBD has a regenerative effect. This is especially interesting for athletes. CBD can help with regeneration. Sore muscles can be prevented and debilitated.
When taking products containing cannabinoids, interactions with various medications may occur under certain circumstances. If you are taking medication yourself, the use of CBD and other cannabinoids should be discussed with your doctor beforehand.