Welcome to CannaTrust's big CBD test! Our CBD comparison is a bit different: we don't compare the CBD products ourselves, as such comparisons are often dishonest, due to the influence of commercial interests. Instead, our priority is showing you what to look out for and which test features may be important. We then refer you to the many hundreds of evaluations and test reports which other users have provided. Furthermore, this is not a standard CBD oil test. The CannaTrust CBD Test 2020 compares CBD oils, CBD cosmetics and skincare products, e-liquids and many other products, all at once.
So, you can find the best CBD product – whether it is CBD oil or CBD e-liquid – and use real customer reviews to compare it to similar products before you buy.
For all those other questions you might have regarding dosage, use or other frequently asked questions, we refer you to our magazine. In this guide you will find valuable information which complements the big CBD Test 2020.
The Essentials at a Glance
Only products which contain CBD and other cannabinoids are compared in this test. CBD is the abbreviation for cannabidiol and is a constituent of the cannabis plant. It is a cannabinoid, of which more than 100 are known to science. This is not a commercial test, and no products are advertised for sale.

Have a look at the customer reviews and use the star ratings to help you decide which is the best product for you. It's not just CBD oils which are compared – other products, such as cosmetics, CBG oil and e-liquids are also included.

The CBD test winners are those products which get the best ratings from real users. The entire process is fair & transparent.
CBD Test 2020
Cannabinoids are a wonder of nature. Within the endocannabinoid system, cannabinoids are able to express their effects naturally. For this reason, the most important property which a CBD test can assess is, of course, it's efficacy. This can only be judged subjectively, of course, but if there are numerous positive reviews for a particular CBD product, then it is likely to be effective for you too.
These product reviews are available at CannaTrust, our independent evaluation platform. Actual users of each product use this platform to pass on their experiences. Statements regarding efficacy in treating particular conditions may also be given. Current laws mean that the provision of such information or opinions is otherwise not allowed. As this site neither sells nor advertises any products, these criteria can also be included in the big CBD test.
Of course, you should also look at the star rating. In our preview pictures, these are not visible, however. Click on a product if you want more details on its rating. The platform also allows you to filter.
Last but not least, you shouldn't forget about the product properties. In addition to important features such as laboratory certificates and CBD content relative to the retail price, there is also, of course, more basic information. For a CBD comparison it is not really relevant whether a hemp seed oil or an MCT oil is used as the carrier oil.
The following test properties are generally included:
customer reports at CannaTrust
star rating provided in the reviews
price and/or recommended retail price
carrier oil
full-spectrum or CBD isolate
organic production
flavour
country of origin
manufacturing process
certificates & analyses
constituent compounds
CBD Oil Test 2020: Comparing the best oils
As we indicated earlier, only you can work out what the best CBD oil is for your purposes. The CBD Oil Test Winner 2020 is thus the oil which ends up being given the best rating by real users. We don't want to give you a recommendation to buy some specific product or earn commission by sending you to some affiliate link. What we are interested in is the truth. So, read around and have a good look at the ratings provided by the other users.
What all of this means is that this CBD oil test is fair and carried out independently. As cannabidiol has a wide range of uses, the following potential mechanisms of action are very important for the test. Although nothing can be guaranteed, CBD oils can help against the following conditions:
CBD oils compared on the basis of real experiences
Before you buy, consider your needs with care and filter the product reviews on CannaTrust accordingly. One useful approach is to run a search for what you intend to use the CBD product for. This way, you can make full use of a pool of over 500 product reviews and see if the product you are interested in turns out to be a test winner. This permits a fair and transparent comparison of CBD oils to be made. Many users consider the carrier oil used, certificates, and value for money to be important factors too. All of these features and more can be viewed on the listings which appear on our portal
Many CBD comparisons which can be found on the internet specifically address the following:
the best 5% CBD oil
the best 10% CBD oil
the best 15% CBD oil
This is not something which we do here, as it is not a particularly credible practice. Before they buy their first CBD product, many new users have no idea at all of how much CBD they actually need. Titles like this are just intended to target specific Google search terms in order to generate new sales. Our approach is simple: find the concentration which works best for you. Evaluate products according to your own criteria. Look for reports which relate to the condition that you wish to treat. Filter by those properties which you consider to be important. Only then will you find "the best" CBD oil i.e. the one which is perfect for your needs.
The result: you discover your own CBD oil test winner
Here you will find all the CBD oils for which there are reviews by real users. The product with the best rating, and which is also suitable for your needs, is the test winner:
[cip category="CBD oil"]
CBD E-Liquid Test 2020: All smoke and no fire?
There is a large market for CBD e-liquids. These smoking substitutes and stimulants are enriched with cannabidiol and can be vaped using e-cigarettes. If you are of the opinion that there would be no significant differences between the products in the CBD E-liquid Test, think again. We would therefore like to highlight a few factors which are worthy of your attention.
The first factor is the CBD itself. Product price is largely determined by CBD content. The more expensive the product, the more CBD it probably contains. The bottles usually contain 10 ml of liquid. This means that – similarly to oil – CBD content can be indicated as a percentage. This should be borne in mind when comparing e-liquids.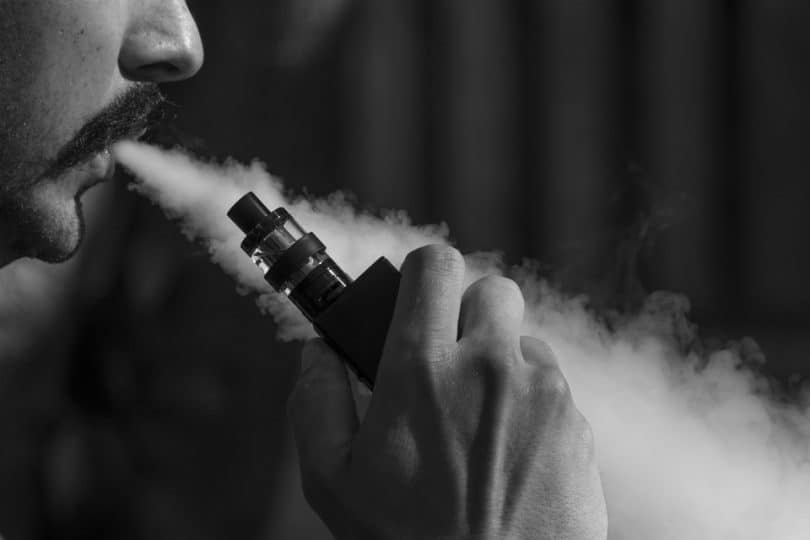 In addition, you can also choose between full-spectrum products and CBD isolate. There are even vaporisers which can be used with pure extracts. This can also effect the quality of the product. The various possibilities each have their own advantages and disadvantages.
Nevertheless, what is clear is that it is the characteristics of the CBD which are most important. Every CBD e-liquid test should be clear on this matter. If you are not particularly concerned about the CBD content of the e-liquid, you will be better off just experimenting with the range of standard e-liquids available in your vape shop of choice, and you will save money too.
Comparing flavour & PG/VG
One thing CBD e-liquids have to do is taste good! A vaper is used to spray the flavour straight into your mouth. Producers have therefore come up with a great many different flavours. Many are produced using natural aromas and terpenes. We would certainly consider the use of natural products to be a very important factor here.
A range of flavours:
cannabis / hemp
strawberry, raspberry, kiwi and other fruits
tobacco
peppermint
natural – no added flavour
exotic, caribbean dream, gingerbread and other unusual varieties.
The PG / VG ratio is also important. PG is short for "propylene glycol". VG is short for "vegetable glycerine". Generally speaking: the more VG an e-liquid contains, the more vapour is generated. As there is plenty of subjectivity involved here, in our CBD E-Liquid Test 2020, our conclusion is: decide for yourself! Some people need more vapour, whilst others need less!
So, to cut a long story short: the best CBD liquid is…
The one that you like the most. The following factors are worth particular consideration:
How much CBD should the e-liquid contain?
How much money do you want to spend? Price comparison!
What flavours do you like?
Decide whether you prefer more vapour or less.
Read e-liquid product reviews by other users and carry out your own CBD test!
This last point is of particular importance. If you want to use the CBD for a specific condition, then tips from other users could be very useful to you. For example, these products are said to work very well for combatting addiction and for helping against migraines and stress. So, make the best use of our free platform and carry out your own e-liquid test by comparing them. This is the only realistic way you are going to be able to get credible answers to your questions, without sales pitches and affiliate links!
[cip category="CBD e-liquid"]
CBD Cosmetics Test: Creams, salves, ointments etc. tested by actual users
Many people who have skin conditions are interested in finding alternative cures. At some point, they will discover "CBD cosmetics" and "CBD skincare products". These include salves, ointments, creams, gels, bath bombs and much more! All of these are tested in accordance with our guiding principle: only an honest experience report will actually help you. So, this CBD cosmetic test 2020 does not have the traditional format, but you will still be able to find the best CBD salve, ointment or cream.
As you can see, this is probably the only way to make a good CBD salve comparison. You won't find any fake rankings or sales pitches here! If the product has satisfied other users and helps against a specific condition, then this is your personal skincare product test winner.
Just carry out your own test and compare them for yourself!
Search for cosmetics and skincare products on our rating platform. Read through the information, certificates and evaluations that are to be found there. Look for positive reviews which are relevant to whatever condition it is you are concerned about! Studies and personal experiences have already shown that these products can help in the case of the following:
osteoarthritis / arthritis
skin conditions in general
psoriasis
healing wounds / scars
hair loss
rheumatism
Don't forget that it is also important to pay attention to the other ingredients! Salves can have widely diverging effects if they contain other active substances. Carry out your own CBD test for cosmetics and skincare products.
You are also welcome to use our Facebook page for this purpose, as well as to exchange information with over 20,000 other users in the group. (click here)
Cannabidiol salves: The comparison
You are therefore best off comparing CannaTrust products on the basis of genuine product reviews. You can also use the search function or filter by category in the rating portal. This is the only way you will be able to find genuine and clear opinions for your own CBD cosmetics and skincare products test.
[cip category="CBD cosmetics"]
FAQs
Do independent CBD oil tests exist?

Most CBD oil tests are performed by affiliates. In this case you should strongly doubt an independent opinion. Also Stiftung Warentest does not test CBD oil.

Check the independent reviews on CannaTrust.

Which CBD oil is best in test 20/21?

There is no CBD oil test winner. Instead, look for an independent test, good ratings and great ingredients. Read the CannaTrust CBD test.

So which CBD oil is the best?

There is no such thing as the best CBD oil. Many hemp oils with CBD are good. Look for the quality characteristics, seals of quality and analysis certificates. Ratings are also very important.

Who conducts the CBD Test 2020?

We are the team behind the independent CBD rating portal CannaTrust. We do not need to sell anything. That' s why we can express our free opinion, which we always will do for the consumer.
When taking products containing cannabinoids, interactions with various medicines may occur. If you are taking medication yourself, the use of CBD and other cannabinoids should be discussed in advance with your doctor.